Although we tend to go to the pool more in summer, it is accurately a physical exercise in which you can participate every time in a year. Of course, the essential accompanying element to let you do that is the indoor place with the mild temperature. Sometimes you may look around in order to find a friend to go triathlon swimming, especially in hot weather. However, it is not only a fun and cool way to relax but also one of the exciting activities or sports which may not cost you much. As swimming holds no ability barrier or age, you do not have to prepare any equipment for it as well.
1. Weight Loss
As a matter of fact, swimming is considered one of the effective ways in burning calories. Your gentle swim generally may burn at least of 200 calories. And you may finish this activity in less than an hour, so it is more time-efficient than walking. What's about your faster swim? You can realize that indulgent bar went quicker than other exercises like cycling or running. What I meant here is that you can lose weight by consistently and strenuously swimming. After finishing each line, it can elevate your heart rate and burn out your calories. Also, appearing publically with a swimsuit motivate you to shed several pounds.
You can lose weight by consistently and strenuously swimming
2. Diversification
With swimming, there are a lot of choices to let you not be bored. Each session of this sport is different enough for you to stay motivated and beat boredom. Now, you may think of your favorite swimming form and get started, aqua-jogging, training aids, sprint work, fitness drills, water aerobics, etc.
3. Triathlon – Popular sport
You are recommended to swim not because of all others choosing to do it. Let's imagine that a modern kid can jump off the bridge into the pool freely. Why are you unable? In fact, swimming is a common sport for a plenty of good reasons. And there are several facts and figures to prove it. This activity is currently in top 3 among other sports regarding the popularity. It also ranks the 4th place in the list of the most popular U.S. sport.
4. Heart Helper
Going to the pool will provide you with the excellent condition of the cardiovascular way. Swimming gives you an exceptional and precious chance to practice your technique consistently. While other exercise forms can be more useful and efficient at the elite levels such as cycling or running, incorporating it into your routine of cross training routine will bring you a positive result. Meanwhile, do not forget to self-push in practice to achieve the overall enhanced fitness.
5. Social Outlet
Have you ever imagined meeting your dream lovers in a swimming pool? Seeing them without clothes is somewhat interesting on the first date, don't you think? That is one excellent benefit you may get by joining a triathlon training team or Masters group. Apart from the romance possibility fueled by your mutual interests, this group program may offer you professional coaching and peer motivation to increase your performance results.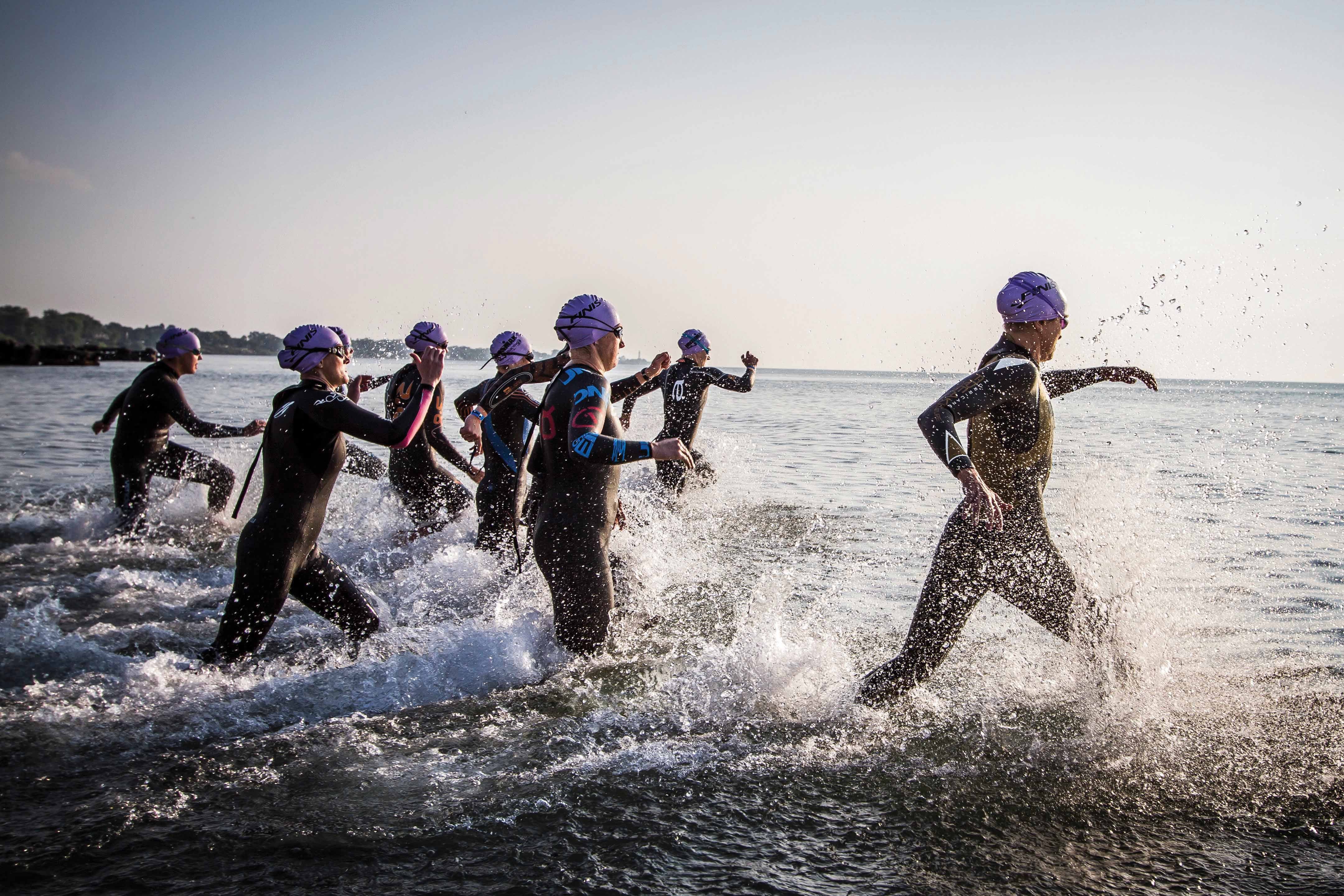 Social outlet with triathlon swimming
6. Balance the Build
In comparison to other sports, triathlon swimming makes leaner, longer muscles which complement the denser muscles. You may experience it by participating in the weight training. The muscles of swimmer also help you boost metabolism as well as keep your calories burning faster and longer.
7. Cross-training
While increasing your muscle strength, triathlon swimming stimulates your cardiovascular capacity. Also, it gives the body an adequate break from activities with the higher impact, such as weightlifting, basketball, and running. By creating your balanced and healthy workout routine, you can avoid injury simply by allowing your body enough time to heal but not forgoing your usual training sessions.
Triathlon swimming stimulates your cardiovascular capacity
8. Adventure
Branching out right from the indoor, darkened community pools previously, swimming is now offered by many health clubs. With many choices of clean places, local communities may figure out their renewed interest for this activity in summer. You may get started by seeking out all available nearby natatoriums in the area. Locate the quarry, lake, ocean, or pond and explore the wonder and joys of swimming in open-water if applicable.
9. Increased Flexibility
Doing exercises in the heated pool may enable your important stretching, relax muscles, and increase the flexibility. After intense endurance workouts like weights, running, or cycling, a smooth and gentle swim helps you flush out all toxins preventing your muscle soreness and tightness the next day.
10. Endurance
If you sustain doing other exercises during the day, you can swim much longer than your primary ability. With the precise technique, one swimmer may train for the longer periods than if she or he were running. As a result, she or he will burn more calories to stay fit.
11. Strengthen the Core
Swimming indeed develops the core strength for your body because it can utilize all the muscles simultaneously. Even though 75 percent of your effort when doing this activity comes from your upper body, find and kickboard workouts may provide the great leg exercises.
Final word
In short, whatever your excuse or reason is, if you do not push yourself into a regular fitness routine, these type of sport will be unable to add quality into your life. If you are not going to the pool for fun or fitness, triathlon swimming offers many various reasons just to get into the water. Above are some common causes you might think of. Let's consider making your positive change as well as research your swimming opportunities today!
Want to know more about this sport? Let's read on Top 14 Ultimate Benefits of Triathlon Swimming