We all know your needs and demands. Everyone is always seeking a suitable nutrition diet plan to stay healthy and improve their endurance. For a triathlete, the demand of nutrition is much higher than a normal one due to the hard practice and training during all week.
Although this plan is extremely important, not all of triathletes find the right way to eat healthily and scientifically. In this article, we will help you improve your nutrition diet schedule efficiently. Now, first, have a close look at its importance as below.
The importance of having a nutrition diet plan
A nutrition diet plan is a daily nutrition schedule set up for triathletes. This plan will show three main factors. They are what kinds of food the triathletes should and should not eat. Next, it also indicates what time is perfect to achieve nutrition. The last one is the quantity of food they should uptake.
Because the athletes normally require a large amount of nutrition for energy improvement and recovery, creating a diet plan is always of high importance. Without a scientific diet schedule, your body cannot provide enough energy and strength to complete all stages in a triathlon competition. Besides, this plan not helps you to recover after a long training but also enables you to gain peak performance on a racing day.
What do you need to improve your nutrition diet plan?
In fact, there is a variety of recommendations available on various websites all over the world. With individual experience and suggestions from experts, we guarantee that our following tips will benefit your improvement a lot. Our nutrition diet plan is not for muscle building or fat loss. Here, we are helping you to achieve your best performance ever. Now, let's discover the amazing tips as below.
For further information, find at this link:
What should you eat in a nutrition diet plan?
For triathletes, food is energy and fuel. Without food, you cannot live and train for a long time. It is undeniable that many kinds of food contain an excessive amount of nutrition that helps to refuel your body and muscle as well. However, not any of them are good for your training. Therefore, before going to a supermarket and pick up food for your daily meal, remember to take the right one.
Carbohydrates are essential for any diets, especially for pre and post-training. Although carbs help to provide a great of energy to the users, you should also know that different types of carbs have different effects on your health. After understanding the functions of each kind of carbs, it is also necessary for you to know how to cook them without crucial nutrition loss.
Therefore, the best way is to find a right instruction in cooking temperature, time and additional spice and then, follow it scientifically. If you do not find it yourself, let's go to a physician and ask your his advice to get the best effectiveness.
In addition to carbs, protein and good fats are necessarily included in each diet. Oily fish or nuts provide a lot of good fats while you can find protein in fish, meat, eggs, etc. After that, you should also eat vegetables and fruits to improve the nutrient intake as well as keep fit.
Furthermore, the triathletes also avoid eating fiber, especially when the competition is about to take place. We suggest not taking this food because some fiber-rich one can cause digestive matters and problems. Instead, you can eat bread, potatoes, rice or fruits without rough seeds and skins like mango or melon, etc.
What time is perfect to refuel energy?
In a long and hard workout, whether you have enough energy during training or not depends on major on how you time your nutrition diet plan. As a result, you want to time your diet exactly to ensure a richer energy for a longer training and better endurance and performance.
It is better if you take a meal with most of the carbohydrates and some protein approximately 3 hours pre-workout. Meanwhile after a hard training, do not forget to eat a meal of 1:4 ratio protein to carbs. Although you can refuel anytime you want, at this time, your body receptively delivers the capability to refuel glycogen in the muscle.
However, if you are hard to meet that schedule, do not be afraid. Just eat as soon as you can.
Energy supplements: bars, gels, and sports drinks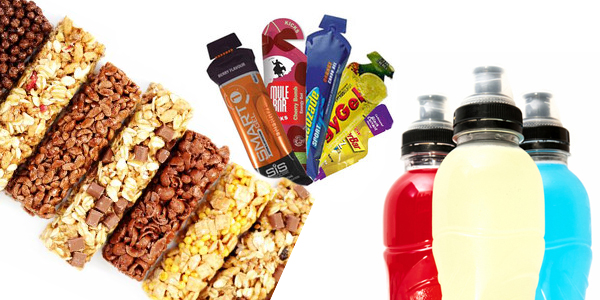 Some triathletes may think that a daily diet is enough for all racing and training. It may be true, but sometimes may be wrong. Especially for a multiple competition, your body always requires a high source of energy and nutrition. These are available in many types of supplements like bars, gels or sports drinks.
The supplements are regularly made for energy improvement, recovery, endurance or peak performance. Designed with nice taste and numerous nutrition, they can satisfy any needs and demands.  Depending on your purpose, let's choose the ones that match your taste and demand.
On the current market, you can easily find these supplements at many shops and stores. However, not all of them are true for your body. They may contain some capable side effects which prevent you from taking the next steps in your competition. Experimenting is considered as a good way to determine what perfectly fit with you. However, never try one new on racing day.
Some notes you should never ignore
The first note for you is that you should never take anything new on racing day. Due to some of the capable side effects, testing a new food or new brands of bars, gels or sports drinks is the fastest way toward a stomach problem. This matter prevents you from finishing all the stages in a triathlon.
Next, trying something new in a racing week is certainly possible. In fact, some food or supplements offer great benefits to someone but may confuse the other. Therefore, let's try different food and drink to check out the best suitable ones.
Then, think about the impacts of traveling to your nutrition diet plan.To cope with this problems, do not forget to prepare an alternative on your daily schedule.
Furthermore, do not make any mistakes with water. Drink at least 2l of water per day, plus one bottle of fresh water per hour if you are in a workout.
Last but not least, remember to stay hydrated. Make sure that your body is kept consistently hydrated during the entire day.
Conclusion
A nutrition diet plan always plays an essential role for any triathletes. Understanding this importance, we are here to help you to improve your energy and fuel for your important racing day. Are you dealing with any matters and problems in your daily life? Tell us and receive effective support whenever you want.