Fancy to challenge and achieve the water rather than hitting the speed? Have you ever struggled to find something that works correctly underneath the pool? Are you looking for the best swimming watch as a swimmer? If you're expecting to improve your records, you should not be tempted to take a look at these following steps. By this way, you will soon find your most suitable swimming watch.
Understanding the benefits of choosing the best swimming watch
One of the most common questions is: "Do you truly need a watch while going to the pool?" As a matter of fact, I can't say Yes or No. But I'm here to point out the benefits it can bring you. Firstly, you will be able to keep your eyes on your training results. Secondly, you can easily use it to improve your current strength and movements. In fact, it may help you much to take notes on each training session.
Nonetheless, it is never a disadvantage when having a compatible sports device. It gives you the motivation to keep going on your way. Also, it encourages you to be better and healthier.

A swimming watch gives you the motivation to keep going on your way.
So what can the best swimming watch be expected to do?
Water-resistance
A swimming watch contains a few factors to stand out as the top choice for swimmers.  First and foremost, when you're looking for something working properly under water, it should be water-resistant. It means that such watch is entirely sealed to avoid being busted by the moisture or soaked and died out entirely.
How deep can it work in?
Following that, you need a device which works efficiently for your records. For example, if you want to take it with 50 meters depth, wisely consider seeking a particular watch. It will allow you to dive in the same or below the depth. However, some water devices are not sealed and strong enough to go deep. Surely they will be challenged when you take up to the depth of 30 meters.
Calories burnt calculation
As a swimmer, you need to know how much calories burnt after each swimming training section. It means you should check if the watch can calculate and tell how much calories you've consumed. Also, knowing some burnt calories will help you a lot to maintain your body shape. It's indeed a goal of every swimmer or athlete.
Heart rate monitoring
Furthermore, another important factor you should not skip out is your heart-rate. So, consider looking for something which continuously monitors your heart rate. And the watch will help you a lot to reach the peak performance. In fact, understanding each part of your body is always a must thing to do. By this way, your heart-rate somehow decide whether you should take a step into the water or not.
Battery
It was such a depression when you tried your best for the training before finding out that your device has run out of battery. So, make sure that you own the best swimming watch with long life battery installation (up to 8-10 hours per charge). It should be fully charged before you make your way to the pool. As a matter of fact, it would be effortless and time-wasted if all your performance were not counted.
Design
It is 2017, so the thing is not only about function but also about appearance. As a swimmer, you need a watch that fits you perfectly. The best swimming watch should embrace your wrist without any inconveniences. Honestly, it should make you feel comfortable when wearing. Besides, each motion of it need to go smoothly, or it's not worth to be brought. Take a deep breath and let your feeling tell you if you indeed want it.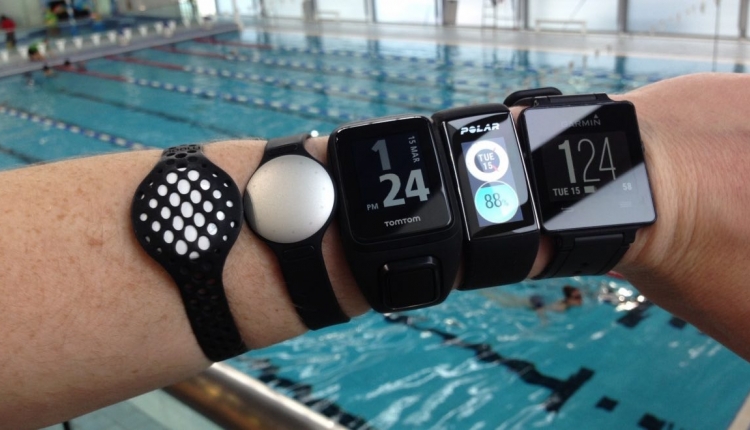 There are many designs of swimming watches for your consideration.
Weight
As we all know, the best swimming watch should be lightweight to give you more support under water. No matter it's a swimsuit, a pair of swim glasses or a swimming watch, being lightweight is a MUST. It's not the best swimming watch if it's too heavy on your wrist. Also, it should be suitable to bring under water.
Top choices of the best swimming watch
If you make this far, please kindly consider continuing the journey. You have almost found your choice.
Polar M400 GPS Smart Sports Watch
Featuring a sporty design, this sports watch from Polar is not only a swimming watch but also fits the role to be a friend with our swimmers. Like most other fitness/swimming watch, it records your calories, distance, and steps.
Therefore, heart-rate monitoring per minute is also compatible with this device. One of this product's greatest features is the battery life, which does last up to 15 days.
Products from Amazon.com
‹
›
Misfit Shine Swimmer's Edition – Swim, Fitness & Sleep Tracker (Silver)
This type of watch is specially dedicated for swimmers. As it features a waterproof seal, there is no worry about getting moisture from the water. Besides, it allows you to track swim distance and laps, and it tracks these metrics with the incredible accuracy.
The replaceable battery should last up to six months, which gives you plenty of time for swimming. Moreover, it is made out of aircraft-grade aluminum, which is extremely lightweight and durable. If you care about the look, consider to grab it, or you will regret.
Products from Amazon.com
‹
›
Garmin vívoactive HR GPS Smart Watch, Regular fit – Black
When shopping for fitness trackers for swimmers, you shouldn't forget about the Garmin Vívoactive HR. It comes with the waterproof design and material plus giving you the heart rate monitoring.
It's made of durable, black plastic, and with a flat, rigid watch face. This device is used as a watch-like rubber strap to stay secured around your wrist. Nonetheless, the battery is designed to last for eight days, and the screen is easy to navigate. Also, it lets you keep track of distance, calories, and intensity.
Products from Amazon.com
‹
›
Garmin Swim Watch with Garmin Connect
Garmin, the best swimming watch is a helpful tool that allows you to go deep into the water, but don't worry that it will slow you down. With this stylish, useful watch, you can completely concentrate on your swimming techniques. So, there is no more concern about which activity you're doing. It can, in fact, automatically count your lap and the stroke you're taking. And how long your tracks, distance and pace are also taken into account.
There are a few buttons to press, and it's easy to use as you can log drills or start timing without continuously observing the pool's clock. This watch is not only a helpful swimming tool but also an attractive jewelry. So, you can wear it as your daily watch. The Garmin Swimming watch offers you a lot of personal reminders that assists you to fulfill your goals successfully. Lastly, this is a super durable swimming watch that can regularly operate in one year without replacing the battery needed. Don't hesitate anymore, grab it before you regret!
Products from Amazon.com
‹
›
Swimovate Pool-Mate Watch Speed, Distance and Lap Computer for Swimmers
This best swimming watch from Swimovate perfectly functions as a counting lap, medium strokes, distance per lap. Keep in mind identifying what lap you are using. Also, it has a huge memory which can store 1000 sets per session for future analysis. It can go with you into the 50-meter depth and 15-meter length like a water assistant.
The best swimming watch is a remarkable tool for swimmers. As a matter of fact, its light weight will not prevent you from doing your laps freely. With this watch helping you to count laps, you just need to focus on the task. Besides, the watch allows you to use the pool for timing other sports such as jogging, running or triathlon. We should thank the appropriate chronological feature. Buying this watch also means hiring yourself a swimming assistant. It is too excellent for a swimming watch, isn't it?
Products from Amazon.com
‹
›
Final thought
It's not easy to figure out how to find the best swimming watch. And the most important thing is that you should take it seriously. Did you get your own standards to look for your first gear when going to the pool? Even you are not a competitive one who just wants to improve the swimming skill; I hope this has helped you somehow. If you are already a professional swimmer, of course, you should own a watch, don't you? Based on your needs and goals, let's choose wisely and efficiently the one that fits you best.
If you still wonder whether swimming is a good activity, for now, let's read this article.