Triathlon is a multiple- stage competition which contains three continuous sports like swimming, biking and running in the most popular form. For the people, who love outdoor activities especially powerful sports, this is really an idea choice.Because triathlon is a long competition which demanding comfort and flexibility for the entire course, the selection of supporting equipment like tri suit, tri glass, bicycle and so on is of high importance. Among them, an appropriate tri suit men is considered as the most significant factor to the win of a player.
Factors to Consider When Buying Tri Suit Men
Most of the players have trouble in picking up a suitable tri suit for their competition. Understanding that demand, with individual experience as well as suggestions from professions, we carry out the following article with a view to enabling the players to overcome this challenge and raise confidence in each performance. If you are worried about how to buy the best tri suit men, keep reading our article as below.
Pick up the fittest tri suit men
The first factor you should take a serious consideration when selecting a tri suit is a perfect fit. It is undeniable that, gaining the right fit with your body not only delivers the comfort but also enables the players to perform well. In each stage of this multiple- stage competition, you can always take full advantages of the fittest tri suit men.
In the running or biking stage, your speed will definitely be improved with a fit costume. Fit can make a difference between the speed of 20 mph and 18 mph when it comes to a bicycle. In the water, if you wear a too big wetsuit, you will be considerably slowed down. Consequently, whether your tri suit is bulky or tight, it causes negative impacts on your performance and fails you down. Only with a perfect tri suit which is snug and close fit, comfort and confidence will come to you.
 Breathability and moisture reduction
The weather has important impacts on the performance of the players during the entire triathlon. It, on the one hand, raises spirits of the players. On the other hand, they can catch big challenges in the bad weather.
In hot weather, a perfect tri suit not only fully protects you from the sunshine but also minimizes moisture. However, not any types of tri suit can meet your needs and demands. Coming with a wide range of different features such as brands, colors, constructions, they confuses you a lot.
When seeking how to buy the best tri suit men for hot weather, you should pay high attention to three following tips. Firstly, make sure that your tri suit is flexible and airy enough to increase breathability and aeration. Secondly, moisture should be adjusted. A tri suit with moisture management technology enables to dry the sweat fast is highly appreciated in the hot weather. Last but not least, anti- microbial function included in your tri suit also ensures the comfort for the entire day.
Drag and buoyancy
If the breathability and moisture reduction are important for your running and biking stage, do not skip another crucial feature for your swimming competition. Dealing with how to buy the best tri suit men for all day, especially for your swimming stage, you should pay attention to the drag and buoyancy feature.
Many people may think that the best tri suit is a smooth one. In contrast, a slightly rough fabric is believed to support your performance most.This design not only reduces the drag but also improve the buoyancy.Drag reduction, as well as buoyancy, are considered as two major factors which contribute to speed enhancement. As a result, the win will come nearer to the users. Quick- drying is a very useful feature you should consider when picking up a suitable tri suit for your upcoming triathlon.
Knowing how to buy the best tri suit men never becomes the trouble if you apply this amazing advice.
Additional pockets on your tri suit
Another suggestion when you want to find out how to buy the best tri suit men is an additional feature- a tri suit with zippered pockets. Many people may wonder about the function of an additional pocket. In fact, it benefits you more than you know, especially in the triathlon.
For short race, a tri suit with a pocket is not very functional. However, for a long race, especially in a multiple- stage competition like triathlon, a pocket can bring you incredible benefits. A zippered pocket on the back or side of the top or on the legs of the shorts is highly recommended in this case. What can you put into the pocket? It is all you need for a long race like MP3 player, towel or even your gels to improve your appearance.
Although these essential things can be put on your bike, a zippered pocket is much more convenient for the users. A tri suit with one, two or three pockets, it is up to you. The number of pockets does not affect the speed of the users.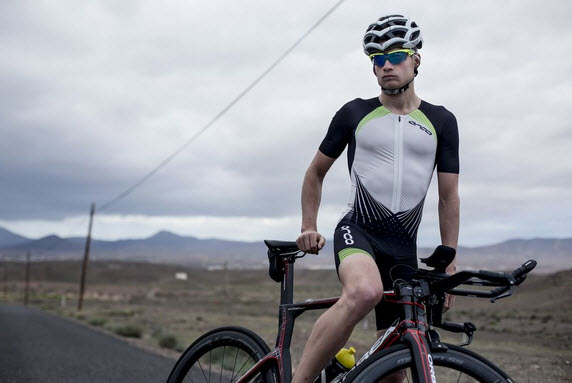 In a NutShell 
On the current market, there is a wide range of different tri suits in term of brands, colors, price, material and so on. This, on the one hand, diversifies the customer's choice. On the other hand, it makes the users feel overwhelmed when selecting the best appropriate one. Therefore, the question "how to buy the best tri suit men" sometimes challenges you a lot.
With the list of tips we mention in the above article, we hope that you will find it easy whenever you choose a tri suit for your upcoming triathlon. If you have any questions, let us know. We are here to serve you whenever you want. Do not forget to visit our website regularly to get more useful information and suggestions.