Defined as a multi-exercises event, a triathlon can make runners run a distance like the typical marathon. In other words, you have to run thousands of kilometers to achieve your plan. As a matter of fact, the triathlon training plan does not need the same strenuous activity like the marathon. However, it is often held together with a marathon. But, runners should take shortcuts or an early finish.
While participating in a triathlon training plan for the race, most of your shorter and longer runs should be at a straightforward pace. You should also be able to inhale and exhale freely and easily while running. Also, you need to talk properly while doing your runs. Do not panic about your pace in every mile. You must think that if you pass the talk test, you are already running at the right speed.
How should you prepare yourself to engage?
Is It Worth to Give A Try On Triathlon training plan?
Have you ever considered participating in a 2K, 5K, or even a 10K run? Do you want to explore something more exciting and new like the triathlon, but you do not know how? You do not need to worry and panic at all! Although a triathlon is an entirely different type of experience, it will bring out some fun and excitement. All you need is to focus more and increase your mileage while running a triathlon. But, training for a triathlon does not require you to train at the same level as the marathon.
8 Must-Have For Triathlon Runners To Prepare
Here's what every triathlon runner should prepare before the big race:
Shoes
You may be wondering what shoes to choose for your training and the actual event. All of us have different preferences when it comes to running shoes. What I can advise you is to head to the nearest running store and ask the experts on various shoes.
Also, you have to get the right fit with the help of a professional to check the right size of shoes for you. Then, the expert may also assess your type of foot, history of running injuries, and habits while training. He or she will also try to raise some questions regarding your triathlon training plan or will observe you while running.
After going through this process, he or she will provide you will different choices based on his or her observations and your feedback. The expert will decide along with you which running shoes you should get. Take note that they should go to your personal preferences and needs.
Shoes are indespensible gears
Apps & Tracking Devices
How will you see the progress in your training? Here are some devices and downloaded apps I use that you can download:
GPS Running Watch: To track your runs, you need to pick the best GPS running watch. You can keep track of your fitness, your direction, heart rate, etc. with the use of this device. Also, you can fill this with different running apps and carry the watch whenever you go.
Runkeeper: It keeps track of every cyclist, runner, gym-goer, and hiker's outdoor fitness. All you have to do is to use a smartphone app.
Nike +: This is an app for iPhone and Android users. It efficiently tracks your daily runs. Also, it has a visual feature that has an interactive map of your runs. It will directly show you the kilometers you hit.
Basic Peak: It is a fitness and sleep tracker. Basic Peak helps you get in shape and have a better sleep. Additionally, it helps you lessen your stress level.
Skulpt: It utilizes the latest innovation in which it helps reach your fitness goal faster. Skulpt helps you measure your body fat quality and percentage.
Misfit Flash: It is a motivation app that tracks your sleep and fitness.
Addapp: This provides you some personal insights to fill your wearable data and heart apps with the use of a free iPhone application.
Music & Headphones
I use my iPod and mp3 player to pump up my runs and workouts. Some research studies have linked the benefits of adding music to enhance your performance. In fact, for filler runs, music plays an important role. During those times when you feel like you don't want to train, music helps you force yourself to do better.
In fact, a few studies have shown that music can lessen your fatigue. Also, it helps you run faster and take longer distances. But, what about safety? With music comes the responsibility to control the volume. You should get some earphones or headphones that do not block the sound in your surroundings.
However, some people feel that listening to music is a disadvantage while having a triathlon training plan. Others claim that running without music helps them appreciate the sport more. It even helps them get aligned with their bodies. They can pay more attention to their body position and posture. Plus, they can focus more on their performance and appreciate the environment.
Hydration belt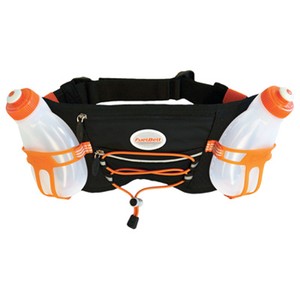 I have come to a realization that I need my hydration belt while running a triathlon. During my last race, I decided to remove my belt. Unfortunately, the app I downloaded claimed that if only I had put on my hydration belt, then I would be two minutes faster. Ever since it has made be a user of hydration belt. A hydration belt enables you to consume some liquid while running. So, it makes you rehydrate faster when you do not have time to stop at the aid stations.
Make sure that you practice wearing it
But, to successfully use a fuel belt, you need to make sure that you should practice wearing it. It will take some time to get used to running with the belt. So, make sure you put it on while running in a triathlon training plan. Moreover, you need to find the ideal belt for you. Personally, I love my belt that comes with a zipped pocket and two flasks.
Sun Protection
Sun damage is one of the biggest threat when it comes to running outside, especially when during triathlons and marathons. It can also lead to long-term consequences like skin cancer. The biggest mistake I observe in runners is that they fail to use sun protection when they need it the most.
A lot of runners do not see outdoors as a threat in damaging the skin. But, the truth is that it's the primary culprit. Thus, some athletes fail to wear clothing and apply sunscreen. A lot of people also fall short when it comes to wearing gears and accessories to protect them from the UV rays of the sun.
I always ask advice from my dermatologist for what sunscreen he can recommend. Moreover, I often look for a sunscreen that will have protection against UVB and UVA rays. The sun protection is a broad spectrum that comes with at least SPF 30. I also select the spray sunscreen because I can re-apply it quickly while running.
Clothes
When finding the perfect clothing for triathlons, you may begin with choosing the basics. You should get a few pairs of socks and sports bras that offer maximum support. Socks help you protect you from developing blisters. Also, it can wick away moisture from your feet after your training and races. You may choose either thin or thick sock depending on the comfort and support level you need.
When it comes to choosing a sports bra, you may need to get bras for running and other high-impact activities. You may try some supportive sports bras in your local store. You may get the fabric that can wick away moisture and with a comfortable fit.
When considering your clothes for races, you may need to prioritize the weather and the temperature. Some experts suggest layers of long sleeve and short sleeve shirt. You can also put on some shorts, tights, beanie or hat, and gloves for cold weather conditions. When the race day is hot and humid, you may look for more comfortable clothes. You may not layer your running clothes.
When accessorizing in a triathlon training plan, you may need polarized sunglasses or any designs that suit runners.
Take your time to select clothes
Additionally, you may want to put on a visor or a cap to keep the moisture from getting into your eyes. Also, get a waterproof but a light jacket for running to keep you dry just in case it rains during the triathlon.
Best triathlon training plan for you
You may have already chosen a triathlon training plan schedule. However, I recommend you to check out the best training plan that you could use to improve your performance during the race.
A suggested triathlon training plan
Here's what you have to follow:
Easy Run
It is a term utilized for a sustained and continuous run at a pace that can you determine as of the moment using the feedback of your body.
Easy runs are an excellent way for long distance runners to build up their strength and endurance. In fact, these are less demanding in time than the long slow distance runs. Also, they are shorter than the standard distances. They can allow you to put extra miles on your legs without trying to exhaust yourself out in training.
Moreover, a particular form of easy runs is the recovery run. It usually follows the hard training sessions. However, how will you execute an easy run? Easy runs will cover a distance of 3 to 6 miles. These runs should be faster and shorter than the typical long slow distance runs. For pro runners and athletes, they may start running at around their slower pace or average marathon pace. Their speed should make them comfortable and empowered. The runners should also be able to utter full sentences at ease while running.
A tempo run
It is a fast-paced exercise also referred as the LT or lactate-threshold. Tempo runs are also known as "comfortably hard." However, these will improve your metabolic fitness.
There are two primary types of tempo runs. The first one is the sustained tempo run. It includes a block of racing following a tempo pace. The training may last up to 3 miles or 20 minutes. But, you do not need a recovery period for your effort. An example is running 7 miles and considering 3 to 5 miles at the tempo pace. You should limit your sustained tempo runs just around 40 minutes.
The next type is the tempo repetitions. It is pretty similar to an interval run. However, in tempo repetition, you need to maintain a tempo pace. Also, the recovery must be as short as 60 to 90 seconds, and the reps should be longer. An example of tempo reps is running for 7 miles. The 3 x mile should have a tempo pace. But, you need at least 60 to 90 seconds of recovery. You may try to jog for your recovery stage. It is quite the same with sustained tempo. But, during this run, your triathlon training plan may include a short time to recover after every tempo mile.
Alternating Tempo Run
It is quite similar to a tempo run. However, by doing alternating tempo runs, you allow your body to flood with lactic acid as you move at a fast pace. But, you need to step back to a triathlon pace for your recovery.
To put things simply, you need to adapt your body to remove more lactate while maintaining a race pace. It means that you can efficiently use the lactate to run faster with less fatigue. Alternating tempos are advanced when it comes to training technique.
Alternating tempo runs
So, you need to ensure that you have finished a few tempo runs before you start with alternating tempo runs. In training for triathlons, I recommend that you alternate between to 10 seconds. It is faster than the marathon pace, but 5 to 10 seconds slower than the 10K pace.
As you become fit, you may boost your runs to 7 to 10 miles. But, this will still depend on your standard workout time. Your overall workout, excluding your warm up and cool down, should reach up to 6 miles. It makes the alternating tempo run an excellent chance to improve your pacing skills. You do not need to sprint immediately to have a faster pace in the triathlon training plan. All you have to do is to adapt to over 10 to 20 seconds. Then, adjust to the average speed.
Long Run
It is a vital part of the training program, especially for marathons and triathlons. What comes in th long run is the mileage of the run. You need to take at least three times on your distance race.
There are two distinct types of long runs. The very first type of long run is the steady long run. As you perform this run, you just go out for a smooth and steady run. However, you need to run for an extended period before you achieve it. The pace is not necessarily fast. But, the time on your feet is the most significant goal in this run, not the speed.
The second kind of long run is the latest run for a lot of runners: the fast finish long run. When executing this long run, you have to begin at your average pace when running. However, you need to try to reach the average of your goal marathon pace for the last 30 up to 60 minutes. In my training program, I just have to rotate the two types of long runs. On the first weekend, I try the steady long run. For the next triathlon training plan, I try the fast finish long run.
Steady Run
Done quite the same as marathon pace, steady runs, should be completed between 30 seconds slower and 10 seconds quicker than the usual marathon pace. A steady run is also known as a "comfortably hard" run.
You need to complete a steady state run in proximity as that of the marathon race pace. So, it is an excellent way to build up your aerobic strength. It is also the building blocks of your performances for marathons and triathlons. From your pacing viewpoint, you need to finish the run between 10 seconds faster and 30 seconds slower than a marathon race pace. That is not an easy pace to achieve. So, you need to learn steady runs efficiently.
You should typically perform steady runs while breathing at a ratio of 3:3. It means taking three steps: one to your left. Then, another one to your right, followed by one to your left while you breathe in.
Next, you have to follow the other three steps: one to your left and one to your right. You need to follow your triathlon training plan with one to your left as you breathe out.  So, as a total, you need to take around 30 breaths every minute to run comfortably hard.
Combo Workout
It is an exercise that uses a combination of moves to burn fat, build muscles, and start up your workout routine. Every set of steps is a dynamic combination to burn calories and add intensity.
Combo Workout should be included in your triathlon training plan
Begin your compound workout with any moves and execute each exercise for 6 to 10 repetitions. But, you should allow yourself to rest for at least 60 to 90 seconds after each move. You can repeat the process for two sets each of your move. Start the next set of workouts, completing two sets.
For instance, I usually do the squat jump into lunge combo exercise. This combo targets your calves, glutes, quadriceps, and hamstrings. What I usually do is to place the barbell on the rack. Then, I slowly lift it off, and I put it on the back of my neck.
Take note that you should get a barbell with moderate or lightweight, so you could jump properly without getting injured. Make sure that you place your feet shoulder-width apart. Next, jump into the air and land in a squat position. After doing the squat, perform the lunge. It will make up your first rep in the triathlon training plan.
Vo2 Max Workout
Vo2 Max is the measure of the maximum rate that allows a runner's body to use up oxygen when performing an exercise. The best way to boost your body's way of consuming oxygen is through performing VO2 Max workout in your triathlon training plan.
An excellent way to start VO2 Max training is executing the 30/30 and 60/60 intervals. Begin with the 30/30 intervals after your warm up for 10 minutes. Then, run hard for 30 seconds. You should hold the fastest pace for around 6 minutes. You should go back to the easy job for at least 30 seconds. Then, you can alternate it with the 60/60 intervals. Begin with at least 6 of these and build it up to 10.
Another workout to do is the hill intervals. You should start with a warm up for around 10 minutes. Then, run hard going uphill for at least three minutes. You should run downhill to the starting point. Then, repeat the process.
Lastly, do the lactate intervals. What you have to do is to warm up with easy jogging for 10 minutes. Then, run hard for around 800 to 1200 meters. Make sure that you perform this workout on the track. Lastly, you need to reduce your speed when you reach 400 meters to an easy jogging.
Threshold Intervals
Threshold or T-pace intervals help runners prevent overtraining. Also, this produces more satisfying exercises with better consistency. Threshold intervals are a sequence of repeated runs. You need to follow these runs by a short recovery period in between runs.
For T-pace intervals to be successful, you may need around 83 to 88 percent VO2 Max or even 88 to 92 percent, vVO2 Max. You may build up a proper pace for threshold intervals by running at a velocity that creates an increased steady state of lactate. The pace required is much faster than the pace you have to maintain for two hours or even more. However, it should be slower than the speed you can keep up for 30 minutes.
For me, I figured out that my threshold pace can be equivalent to a speed that I could race for at least 60 minutes. But, for slower runners, the threshold intervals may be just like the 10K pace. They often take an hour or so to reach such distance. The intensity of your effort is what pinpoints the level of stress they put on their bodies in your triathlon training plan.
Intervals
Intervals are intense and short efforts followed by slightly or equally longer recovery time. For instance, after your warm up, you run for two minutes with hard effort. Then, you follow this up with three minutes of an easy jog.
In doing intervals, you are running past the red line. Your runs exert effort when you reach hard enough to grasp some air. Plus, you count the seconds until you can finally stop. In short, these are controlled yet quick runs followed by easy jogs.
The trick to recovery period is discipline and patience. Your natural running enables you to move to the next interval vigorously. Then, try to finish the whole workout tired but not completely worn out in your triathlon training plan. Just like resting, your body tries to adapt, and it gets stronger in the recovery stage.
I usually start my intervals with warm up for at least 15 minutes of an easy jog. Then, I add a couple of seconds to burst at the very end to get ready for the activity. I begin to run for 30 seconds with all of my efforts. But, I take three minutes to perform active recovery and repeat the 30 on three off method five to six times. Lastly, I finish my intervals with a 10-minute cooldown.
Hill Repeats
Hill repeats are the same as what the name suggests. They are just running uphill using all of the efforts that you can. Then, you run back down and repeat the entire process. They help develop your speed, leg strength, and anaerobic endurance.
Blast back up when going uphill
Hill repeats are probably one of the most sport-particular strength training that you can perform for running. However, not all hill workouts require you to run up a hill and jog downhill. But, what I typically do when executing hill repeats is to start with a warm up for up to 2 miles on the flat surface or a road. I do not usually take strides or difficult stretches in the triathlon training plan.
Then, I look for a steep hill that will take me around half a mile of running. I run up hard enough for four times, and I consider to recover with a jog down, or I start to walk. I do not allow myself to rest at the bottom of the hill.
But, I blast back up when going uphill. I take some rest for five minutes. Then, run again for 2 miles on a smooth surface with the same effort I did on the hill. I rest for three to five minutes before I begin my cool down with a 10-minute easy jog.
Pro Tips for your triathlon training plan
Have you ever thought of entering America's fastest race distance, but you are afraid that you can't keep up? Nowadays, triathlon has been one of the nation's ever-growing race distances. In fact, in the year 2012, around 1.85 million individuals completed the 13.1-mile race. Then, in 2011, experts noted an increase of up to 15 percent of the participants. But, why do they choose triathlons?  Here's what you need to know why a lot of people want to join triathlons.
Consider it as your leisure time
Maybe you've been asking yourself the same question as mine: Why do a lot of people consider to participate in a triathlon? For most runners, whether beginners or pros, finishing the 13.1-mile race is the goal! It is quite a challenge for many. However, I can surely say that triathlons offer a different kind of excitement and happiness.
It is 100 percent accurate, especially for people completing the triathlon without getting too worn out. Plus, you can also recover faster than doing a marathon. So, you can quickly join the race even up to twice a year. Whether you are running your very first triathlon or you are already a pro, make the most out of the experience of taking the long race!
Continue to plan a new mix
Have you ever run a 10K and you are considering to try something new and more challenging like the triathlon? Let me tell you this: it is such a great plan to pursue. However, it will require more distance than a 5K or 10K run. So, you need to engage in a more challenging and longer training.
Well, 12 weeks of training is the initial plan for you. But, if this scheme turns out to be overwhelming, you may consider 14 to 16 weeks of training. You have to realize that triathlon training plan plans will have the length of 10 to 16 weeks to already create your weekly mileage of around 15 to 20 minutes. Your longest run should take at least 5 miles. Anything less or more of the run mileage may overwhelm your body.
Also, you may choose your training plan. 12 weeks is the most common length of training for triathlons, but some may pick other lengths. I like to use longer plans. I often train for 14 to 16 weeks, so I can fully prepare myself for the challenges.
Make your triathlon training plan flexible
Readiness scale
Running for your first triathlon maybe quite nerve-wracking, right? However, you need to consider this as a once in a lifetime experience. Often, completing the race will leave you wanting for more and join a triathlon again. So, are you considering entering a triathlon, but you don't know how? Discover here what you need to do!
Most of the time, people quit running because they get bored of the same training patterns. But, you can enjoy triathlons again. You can consider joining a group for triathlons. Also, you may take into account recruiting more people, even your friends to enter the race.
When you are already unmotivated to run, you should consider running with your buddies. Training for a race may not seem the easiest to fulfill. But, if you consider running with a friend or a group, then it can help you all throughout the experience. Plus, you will be one step ahead of yourself, and you are closer to achieving your goal to finish a triathlon!
Focus on the last part of your training time
After a few months of training, have you ever tried "the taper," especially if you are a newbie in triathlons? You do not need to panic. It only refers to the time in the last weeks up to the race in which you notice that your mileage decreases. Do you want to find out more about "the taper"? Find out more here.
A lot of triathlon training plans will usually have two weeks of tapering. However, this may range from 10 days up to three weeks. You need to pursue your plans even if you may feel restless. Also, during the taper, some runners may have extra time and energy. So, make sure to conserve them before your race. A little activity will get you feel a lot better during the taper.
The final three days of the taper are the most crucial part. So, you need to sleep better, eat right, and run wisely. If you stick to your tapering plan, you will feel restless and ready to take on the race.
Keep all factors harmonious
Did you know that if you run for at least three miles, you can also begin training for a triathlon? As you run for a 13.1-mile race, it may seem impossible to do. However, you can make it! All you got to do is to have a positive outlook, wise speed, and strategic plan to carefully prepare for a triathlon!
Before you start a triathlon, you need to beat the balance between different factors. You need to train longer more than 30 minutes every weekday. If you want to race uphill, you need to do one of those runs up a hill. Also, you need to contrast your pace depending on your mood each day.
However, you need to consider mixing another speed to enhance your fitness. Moreover, you may incorporate your training with a walk/run ratio. You need to gradually add up a time to the each run during your training. During your rest days, you may execute cross-training such as swimming, walking, and cycling.
Conclusion
If you are a first-time triathlon participator or a pro runner, you must know that the event is such an exciting stage in your life. However, because of the fear of the unknown, many runners may get overwhelmed. Take it from me, when I first started my triathlon, my first attempt was full of pro athletes. So, I ended up getting scared and lost during the race. So, for the second race, I trained more and prepared myself more.
Although your training plans may ask for speed work at least twice a week, performing your long and easy runs will help you avoid injuries and overtraining. A triathlon may also seek for long runs every week. Then, as the mileage becomes long, you may find it pretty tiring. But, you can fight the boredom when you train with groups or with your friends.
Many newbies think that they need to run for at least the race distance of 13.1 miles to get ready for the race. However, this is a futile attempt. To be physically and mentally prepared for the triathlon, you need to follow the tips recommended above. You do not necessarily need to run for 13.1 miles before the day of the race. If you can run or walk a few miles per day, you should be able to finish the triathlon. So, what are you waiting for? If you want to join a triathlon any time soon, start your training plan now!
If you want to know more about tips for triathlon running, let's read a below article.