The best watch for triathletes may be your personal trainer to help you keep track on your progress and make it easier to have a healthier body. Now, you decide to challenge yourself to the sports of triathlon. You jumped into the water at your local pool and started counting laps. A thing is ok for the first four laps, but then after ten laps, you were confused to remember if it was lap 11 or lap 13.
On the next day, the same thing happened when you went out for a run. You believed the distance was about 7 kilometers. But later, you might wonder what the exact speed of your run today and was that good enough to run that road in that long?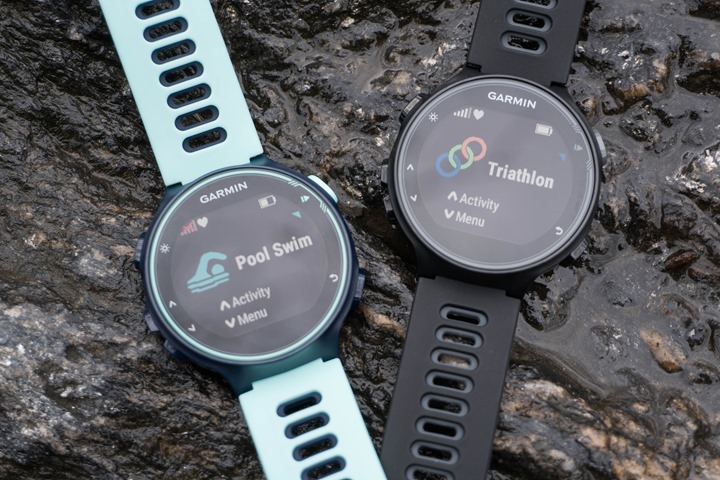 The best watch for triathletes is indeed indispensible for your sports activity
After a few week of training, you preferred to look back and see the results. But there were no data about how many kilometers you have done, how many laps you have taken and how many days you have off for other things. You will try to guess but it would be better to know exactly.
So, it's time to buy you the best watch for triathletes!
How to choose the best watch for triathletes?
Years ago, a watch for triathletes was like a normal watch with heart rate monitors and maybe GPS tracking. Now, everything has changed with so much more features to add on your wrists. There are hundreds of brand with hundreds of features and models that could make you so confused to pick the right one. But the more you understand your need, the accurate you buy the best watch for triathletes.
Let's take a look at some key points before you give away your money.
Make sure its compatibility with your mobile phone.
The best watch for triathletes is basically a smart watch that specific for activities tracking, and none of them can stand alone without your cell phone. Sometimes, because of the first impression, you may go for a watch just by looking at its design, but then you realize that it doesn't work with your Android device or iPhone, so it is practically useless for you.
That's why before buying the best watch for triathletes, check if it is compatible with your mobile phone. You can ask the store where you plan to buy it or if they have no clue about that, everything you need to know is on the internet, only one click to Google.
Choose the design that fit for you.
Even you only wear this while training, a sporty but fashionable look is still better than a fat and ugly monster on your wrist. It is why all the manufacturers have spent a lot in researching for a great designer, which do boat functional and fashionable. I believe all the girls will understand this term.
Choose the design that fit for you
Pay attention to its battery life
The battery is considered as your stamina. You don't want the best watch for triathletes got exhausted while you are still available and unfinished your routine, do you? I would be wasted if it cannot record your workout after a hard training day. Usually, a monochrome display or e-paper screen will last longer, from 5 to 7 days, while the LCD will be shorter than two days or less in the case that you are considered a heavy user.
Buy the function you need
This factor is one of the most complicated and confusing when choosing which watch is best for you. Most of them will have GPS tracker, pedometer, water resistance and the monitor function of the heart rate. Then some add-on features such as music, calendar, call and messages and some social apps. The question is, do you truly need all of these or just some of them? Just remember why you need to buy the best watch for triathletes – it will help you in your training and that's all. Other functions you can easy to use on your phone when you are not training.
It should be a friendly watch with larger user environment
You buy the best watch for triathletes make it work for you, not to spend more time to use it and forget about your training. So, be sure that you can use it easy and convenient or you will never see it on your wrists.
User environment is also necessary. The more people use it, the more feedback about that watch for you to consider and you can get a lot of support from other users and developer. Imagine you have some troubles with the best watch for triathletes but you are still in a waiting list of the manufacture and have no one to ask. You would be truly angry.
Your budget
Last but not least, your budget is an important consideration. Even you actually love that watch and it gets everything you need inside. But if its price is too high for you, we still have to wait. You can choose the best watch for triathletes that closes to the one you love or just wait until a promotion or when you can spend more.
Top 5 Notable options of the best watch for triathletes
With hundreds brand and model out there, let's shorten the list and take a look at these suggestions of the best watch for triathletes, which could help you to become a better triathlete.
Garmin Forerunner 920XT
Garmin is a well-known branch on the market since the beginning, and this watch is one of the most all-in-ones featured multi-sport watches you can find now.
It can track seven different types of sports including bike, indoor bike, run, indoor run, outdoor swim, indoor swim, triathlon without a hiccup and still accurate along with many information that other rivals would not have.
If you are a geek and an athlete, this watch is not only fully load with smarts activities tracker to keep any triathlete happy, but also offers some smart tech features, like Live Tracking, auto sync and smartphone notifications on your wrists.
The 1.1-inch x 0.8-inch color screen is controlled by six big hard buttons with two of them are Back and Select buttons. So many choices of the best watch for triathletes make you feel the touch screen is better. However you can see clearly at the Garmin, they choose the hard buttons right for you whenever you need them.
Advantages
Simple to use with clear display
Comprehensive feature set with All-day Activity Tracking
Decent battery life could last up to 5 days
Data collecting is frequently and organized
Accurate GPS and heart rate monitor
Disadvantages
Quite large and bulky
No Micro-USB charging
Expensive
Phone connection is inconsistent
Products from Amazon.com
‹
›
TomTom Spark Cardio + Music
If you are a music lover and you cannot go to the gym without it, then this watch is for you.  Including GPS tracker, heart rate monitor along with built-in music player in this watch, this focuses on athletes who are tired of caring their giant smartphone on their run.
At the first look, this watch looks like a big old CASIO with an LCD but monochrome screen Without the touchscreen, you have to control it by using a four direction button under the screen. It makes the watch a bit bigger, but I assume that it works to make the watch more durable and give you a real feedback to your finger.
The best watch for triathletes can both track your daily activity as well as your training sessions, which is a key feature on sports watches to compete with other products from Fitbit and Jawbone. The data is collected pretty accurately and huge, and the pedometer in compare with the Jawbone, give or take a bit different of hundreds of steps a day.
All information you need, like distance, time, heart rate and pace are displayed on the screen, and you can use the button to swap and view during your run. A challenge but fun feature of this watch is you can race against yourself in the previous session. If you have a particular routine, you can choose to compete against your best from your watch. It will let you know how to improve you are or you are not as good as yourself yesterday. Interesting!
Advantages
Play MP3s without a phone
Top notch heart rate tech
Lots of training modes from the watch
Plugs into Run Keeper and Strava
Slim and comfortable to wear all day
Quick GPS signal pickup
Disadvantages
Tough to choose music mid-run
Adding music is somewhat a chore
Pairing Bluetooth headphones is temperamental
Poor battery life when using all features
Products from Amazon.com
‹
›
Polar V800
From the beginning, Polar has invested a lot in the software section. They put extra 24/7 fitness tracker and combine with new workout program of Polar, which provides a bunch of adaptive training routine. But it indeed remains a go-to watch for hardcore runners, cyclists and triathletes among others.
The low-resolution pixel and the monochrome display, plus the protection of Gorilla Glass and physical buttons make this watch even more tough and sharper to view.  This watch is designed like a tank to resist serious tumble and rough. With a 30 meter waterproof, you can wear it to swim without hesitation.
The V800's headline feature is its fantastic coaching system, which is ideal if you're just starting out your triathlon preparation. With the Polar Flow service, you can create tailored profiles for each sport, balance your training and recovery plus analyze even the minutest details.
Advantages
Strong and durable design
Easy to track and follow your training plan
Great arrangement of routine workouts
Accurate GPS and can be recorded
Interesting analysis of your training
Smart coaching features
Disadvantages
Cost
Bulky and uncomfortable to wear
Heart rate monitor is not included
Products from Amazon.com
‹
›
Garmin Vivoactive HR
Another Garmin on the list but it's worth to standing here. Running, cycling, swimming, even golf, smartwatch notifications and the heart rate: they're all here. Not to mention cross country skiing, indoor cycling, indoor running, indoor rowing and more.
Using a touchscreen, you can easy to scroll down for daily activity and other notifications. A report of your day will be shown, included steps, active hours, last activity, weather and heart rate in last four hours. If you look for further details, just tap on the information you need to know, example for heart rate, you will see a seven-day report when tapping on it.
More than an activity tracking watch, the Vivoactive offers many smart functionalities, which could show you notifications from the smartphone, such as messages or weather forecasts right on your wrist.
Garmin has done a great job on activity tracking so that it becomes a spot on the feature for all of other sports watches. Regarding the speed and accuracy, it could be one of the top fitness trackers on the market for years.  Your steps are counted and your goals are recorded automatically to create your profile. The more you use the watch for, the better and harder of your target will be set up.
Advantages
Accurate heart rate and GPS.
Widgets on app store
Sports tracking support
Great metrics, even for niche activities
Strong battery life
Disadvantages
Dim screen is a bit blurred
Bulky, uncomfortable wearing feeling.
Hard to swap bands.
Products from Amazon.com
‹
›
Suunto Ambit3
Even this watch is robust, highly Adjustment and unique from the market, not only able to track your heart rate in normal exercise but also when you are swimming. All of these features are paid with a high cost – ugly design and price.
The setup is simple, click the start, choose the exercise you want from the list, and you are ready. The watch will automatically install how accurate of the GPS tracker and heart rate, even if you don't turn them on, how laps you should take and more. Also, you can modify it or create your own activity then save ten types of sports in its memory – also setting which information you want to see during that action.
Now is what you like about this watch. For multi-sport users like a triathlon, you can swap Your exercise in the middle of the process with a few simple buttons. Otherwise, you can plan it, pre-set up an order and time for each exercise then you can switch them with one press to change. This operation makes it a lot easier to track your whole exercise.
Advantages
Tracks GPS, heart rate, and daily fitness
Tracks heart rate while swimming
Multi-sport and navigation features
Great battery life
Fast GPS signal acquisition
Disadvantages
Very bulky/uncomfortable on wrist
Pricey
No vibration alerts
Products from Amazon.com
‹
›
Conclusion
I believe when you decide to take part in these hard training for a triathlon, you are serious and want to achieve many things. With this watch, you will be able to know a variety of different types of information. Most important for a triathlete, of course, is heart rate, speed, and distance covered then you can adjust your routine and your amount of work-out to be better.
This watch will be your personal trainer and also a competitor for you to fight. With its data, you can try to beat yourself of yesterday, and this will keep you moving forward. And once you go on the wrong path, it will let you know and fix it for you like a strong trainer.
This investment also forces you to work harder not to waste the money you spend. With our top 5 options of the best watch for triathletes above, whether you are a professional athlete or training for a friendly charity event (or both!), you will be able to find the best watch for you.